Innkeeper is Roasting Coffee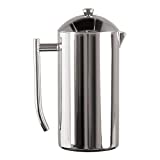 A trip to Hawaii many years ago as new innkeepers created a hobby for Jim that has been bringing him so much fun. While we were in Kona we toured Hula Daddy Coffee Plantation and were happy to find out how coffee was grown, harvested and roasted. After we sampled the final product, I made a mental note – a coffee roaster would make an awesome Christmas gift! And that was the beginning!
Jim will be writing a blog (soon) to tell you more as there is so MUCH to coffee roasting! But for now, this quick blog post serves as an introduction and a teaser to his upcoming blogs.
This is Jim's favorite French Press Coffee Maker: https://amzn.to/2MOcXf7
(We get commissions for purchases made through links in this post. Thanks for supporting small businesses!)