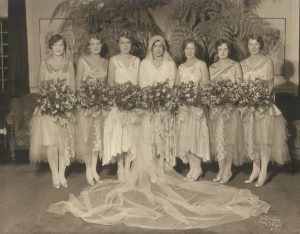 For The Brides
Come visit us in historic Blackstone, VA and tour The Grey Swan Inn Bed and Breakfast.  Call us at 434-292-3199 for your tour reservation.
Romantic Photo Shoot
Our vintage inn can be the lovely backdrop for your bridal photographs.  Hourly rates apply.  Dressing room may be available for an additional amount.
3 Night Stay at The Grey Swan Inn
"Day One – Friends are Forever"
Imagine spending an afternoon and evening relaxing and creating wonderful memories with the women who will be with you on your special day.
When you arrive in the early afternoon, we will help you unload your vehicle and let you just unwind for a little bit while enjoying beverages of your choice.  We'll provide the non-alcoholic drinks and a few light gourmet snacks.
Dinner and Bachelorette Party – This can be prearranged in a private room at one of our local restaurants, or enjoyed in our private dining room & parlors for small groups.   Mrs. Innkeeper can help with referrals for caterers, local entertainment, and party specialties based on your individual tastes.
"Day Two – Spa (Ahhh!)"
Sleep in and enjoy coffee service delivered to your room.  A full gourmet breakfast will be ready whenever you like and catered to your likes.
Today you will probably be conferring with your wedding planner for last minute details for your wedding.  This may also be the time to have your manicures and pedicures completed.  We can refer you to local shops who may be available to come to the Inn for your spa (aahhh) treatments.
Lunch/Early Afternoon Nibbles – surprise your friends with gifts from you while served a gourmet box lunch or tea sandwiches and lemonade served either in our dining room or on our front porch.
Respite (aka nap time) – soothing music and herbal eye pillows will give you time to re-center,
Rehearsal and Rehearsal Dinner – Traditionally the rehearsal dinner is planned by the groom's family.  Be sure to check with your wedding planner.
Return to the Inn for a good night's sleep.
"Your Wedding Day"
Wake up and enjoy coffee service delivered to your rooms as early as you like!
You will be busy today, so we will help you with a stress-free breakfast – your choice of continental or a full service meal at a time best for you.
Your hairstylist, make-up specialist, and photographer may arrive as early as you need them here.
Lunch – Depending on the time of your wedding, you can decide on nibbles or have a more substantial meal catered from one of our local restaurants.
"First Day as Mr. & Mrs."
Sleep in and enjoy coffee and breakfast service in your room.  Check out extended until Noon.
Contact us for prices and the fine print:   434-292-3199 or info@greyswaninn.com