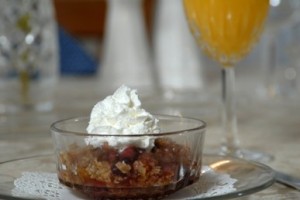 While this is listed as a dessert, we've served this as a starter fruit course with whipped cream on top. This recipe also adapts very well using Splenda and Splenda brown sugar replacement. If using sweeter apples, reduce sugar to taste.
3 c. chopped tart apples
2 c. raw cranberries (or 3/4 c dried cranberries)
1 c. granulated sugar
1/2 c brown sugar
1 c. quick oats
1/2 c. chopped pecans or walnuts
1 stick butter or margarine, cut into small pieces
Spread apples and cranberries in bottom of a buttered 2-quart casserole dish, or 5 8 oz ramekins.Spread sugars, oats and nuts over apples and cranberries. Top evenly with butter pieces.
Bake for 55-65 minutes at 325 degrees.
Variations: substitute rhubarb, dried or fresh blueberries, or blackberries for the cranberries. Mixed apples and pears with raisins will also work well.